The Buddhist College of Singapore, located within the premises of the majestic and renowned Kong Meng San Phor Kark See Monastery, was initiated and actively pursued by the current abbot of the monastery, Venerable Kwang Sheng. Established formally in 2005, the College ushered in its first batch of student in August the following year.
It currently offers 2 levels of programmes: Bachelor and Master degree in Buddhist Studies conducted in English and Mandarin.
The founding principle of the College is to groom bilingual Sangha members grounded in right view and knowledge to contribute to the continual development of Chinese Buddhism and its spread in the English-speaking world by providing the necessary human resources through education. Its teaching philosophy is based on adherence to the tenets of Chinese Buddhism and respect for unity in harmony. Although the curriculum specialises in Chinese Buddhism, the teachings of other lineages are incorporated.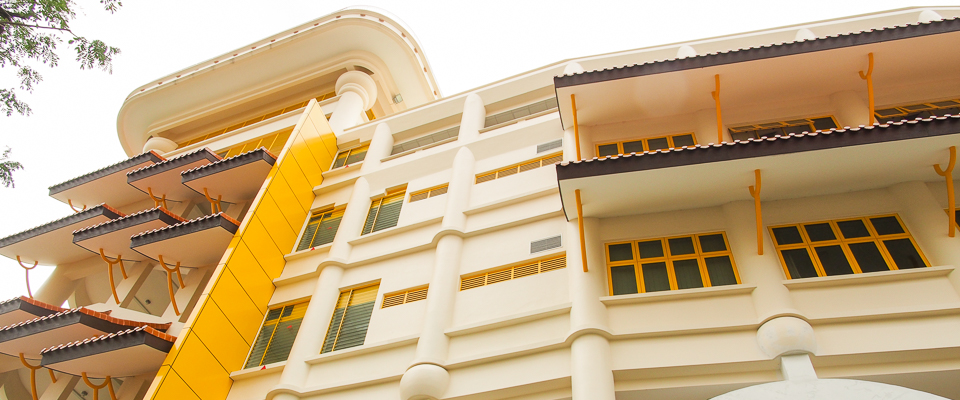 BCS is managed under a corporate framework . At the core is the Rector, followed by two Deputy Rectors overseeing academic affairs, administrative matters and student ethics. Operational units are: Academic Office and Academic Office Administration, responsible for curriculum planning and employment of teaching staff; Monastic Training, responsible for student affairs; and Administration, responsible for backend support. In addition, the Library plays an important role in the College with its rich collection of resources on diversified subjects that include Chinese and English publications, and audio-visual materials. These not only broaden the students' horizons and stimulate their minds but also draw most devotees to spend long hours in the Library.
To set the College on a systematic path towards world recognition, it has signed MOUs with the University of Kelaniya in Sri Lanka and the University of Mahachulalongkornrajavidyalaya in Thailand in 2008, to offer the Bachelor of Arts in Buddhist Studies joint degree programme and the Bachelor of Arts in Buddhist Studies joint degree programme conducted in Mandarin, respectively.
BCS has a strong faculty comprising lecturers with professional qualifications, majority of whom are Sangha and lay members with PhD and MA degrees. Be it the joint degree programme in English with Kelaniya University or the joint degree programme in Chinese with Mahachulalongkornrajavidyalaya University, the College selects Sangha and lay members who meet stringent language, qualification and professional requirements to teach the courses.
Trainees undergo the Chinese Buddhist forest tradition way of life. Complementing the curriculum is a daily schedule in which they attend compulsory morning and night recitation classes, observe monthly Dharma practices and participate in the annual 3-Step-1-Bow ritual and other activities of Kong Meng San Phor Kark See Monastery. This is to cultivate and strengthen the trainees' faith, resolve and Bodhi mind. In consideration of the trainees' physical well-being and to enrich their extra-curricular pursuits, the College organises a week-long Sports Day every year . While they are acquiring cultural and professional knowledge, their minds and bodies are being nurtured in tandem.
The Buddhist College of Singapore has just completed its new teaching block on the site of the sanctuary in Kong Meng San Phor Kark See Monastery. Occupying a land area of 10,272 sqm, it is a multi-purpose building housing teaching, research, office, sports, hostel and other facilities to groom more Buddhist talents.